Who's talking about us?
"The Trail Blazer software, mobile app, and support team have been a tremendous help to our candidates here in Stark County, Ohio and helped us to organize our database with great ease. You have no idea what it was like coming into an office and searching through the last 15 years of spreadsheets to find a donor name or an event list. I'm glad I pushed our Chairman and Vice Chairman to purchase this and make our office 1,000x more efficient."
Jason Wise
Executive Director for the Stark County Republican Party
Advanced Voter Segmentation
Trail Blazer gives you precise control to target specific voters allowing you to drill down in ways you've never imagined. Having the right tools will make your GOTV efforts, voter ID work and canvassing better than ever.
Access State Voter Records
We provide the state's voter data in many states at no charge. Data may require some clean up. Ask for details.
Mapping and Turf Cutting
As an option, we can add state-of-the-art mapping to your suite of campaign canvasssing tools. Additional fees will apply for geocoding the latitude and longitude of your voter households. You can choose to append geocode data to the rooftop or to the block. Please ask for a quote.
Watch Mapping & Turf Cutting Video
Download our Phone App
With our Mobile Base Camp app, you can view and update voter/donor records, canvass door-to-door, see giving histories, pledges and update log notes. Plus, filter donor groups by attribute. Click here to download our app from Google Play or click here to download from the Apple Store.
Online Fundraising
Raise the money you need to win. Use our mobile-responsive website forms for donations, event registrations, volunteer sign-ups, and merchandising.
Donations On The Go
Mobile giving with your smartphone is available from Vanco Payment Solutions. Read more...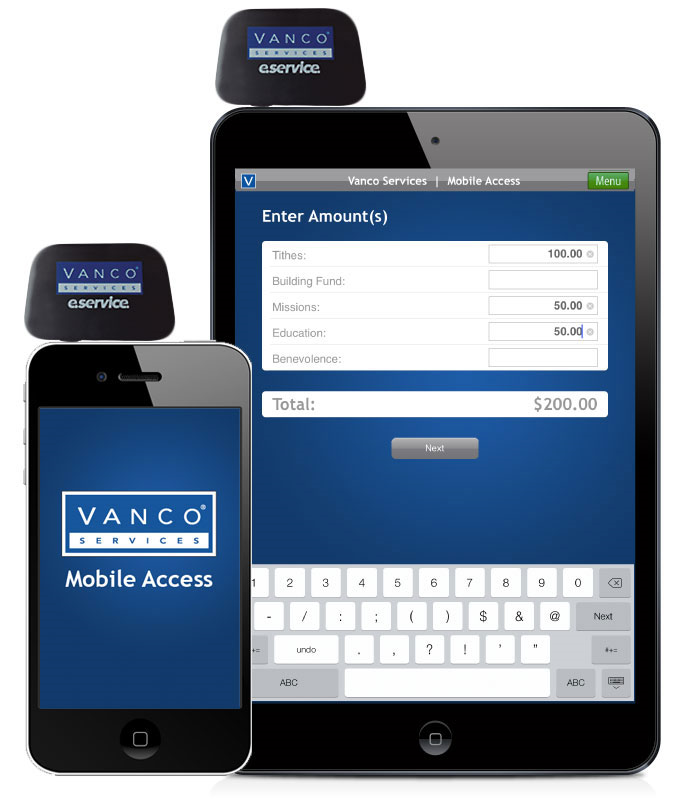 Save Time On FEC Compliance Reports
Reduce time preparing time-consuming FEC reports. In a few clicks, all your information is automatically filled in. Schedules are automatically compiled and ready to attach to disclosure reports. Upload your report directly to the FEC online reports. Meets federal and state requirements. We provide state compliance reporting in a few select states as well.
PC and Mac Compatible
Enjoy the flexibility of accessing your data from a PC, or on a Mac with a Remote Desktop Connection.
PCI Compliant
Trail Blazer meets the Payment Card Industry (PCI) Security Standards and we are committed to safeguarding your data.
Mobile Poll Watching
Now, your poll watchers can log whether or not a voter has voted on their smartphone. Data is uploaded in real time. This keeps your GOTV calls on track calling only those who have not voted yet.
Mobile Base Camp for Voter Canvassing
Access your voter database from your mobile device. Canvass neighborhoods, add records, view contributions, see pledges, add log notes and more. Mobile Base Camp is FREE and bundled with our full campaign software package. It's ideal for field work. Now you can use paper or electronic walklists. Canvassing data is updated real time, not at the end of day like other vendors.
Watch Mapping & Turf Cutting Video
Integrated Mass Email
Send unlimited mass emails to your opted-in list at no cost. Best of all, you avoid the "cookie cutter look" of eMarketing services like Constant Contact, etc.
Shared Calendars & Reminders
Manage multiple schedules at once. Keep everyone informed of the candidate's schedule, plan upcoming events, and assign tasks to committee members. Reminders make sure that no one drops the ball.
Manage Your Checking Account
Add and edit accounts easily. Reconciling is as easy as marking an "X". Automatically account for banking fees. Sort and print transactions by payee or company name. Track disbursements and deposits effortlessly. Security options ensure confidentiality and integrity of data. Write and print checks directly from the system. Seamlessly transfer funds between accounts and committees. Track expenses easily.
Custom Expense Reports
Create customized expense reports with the click of a mouse. Know where you stand financially at all times. Track expenditures by payee, invoice or expense category. Plus, track expenses, receipts, transfers and loans.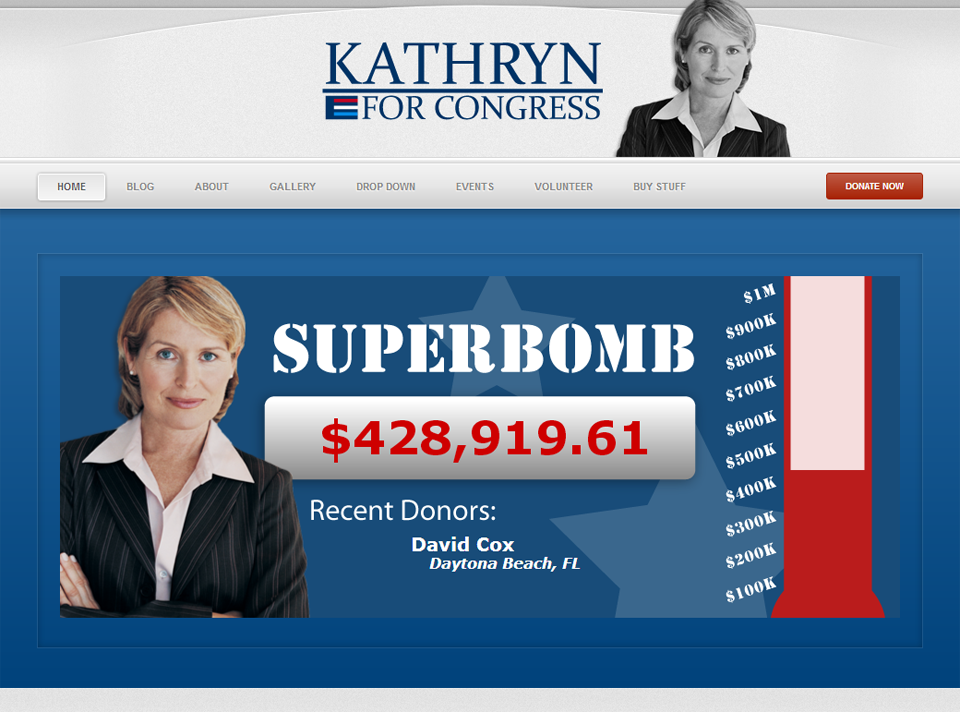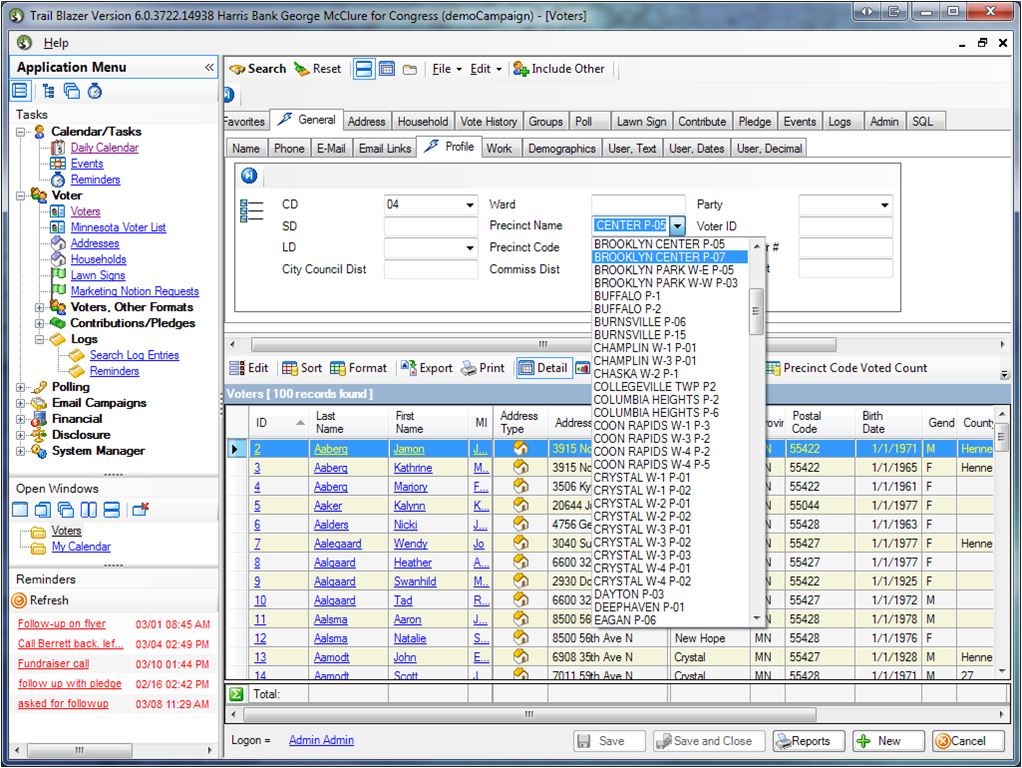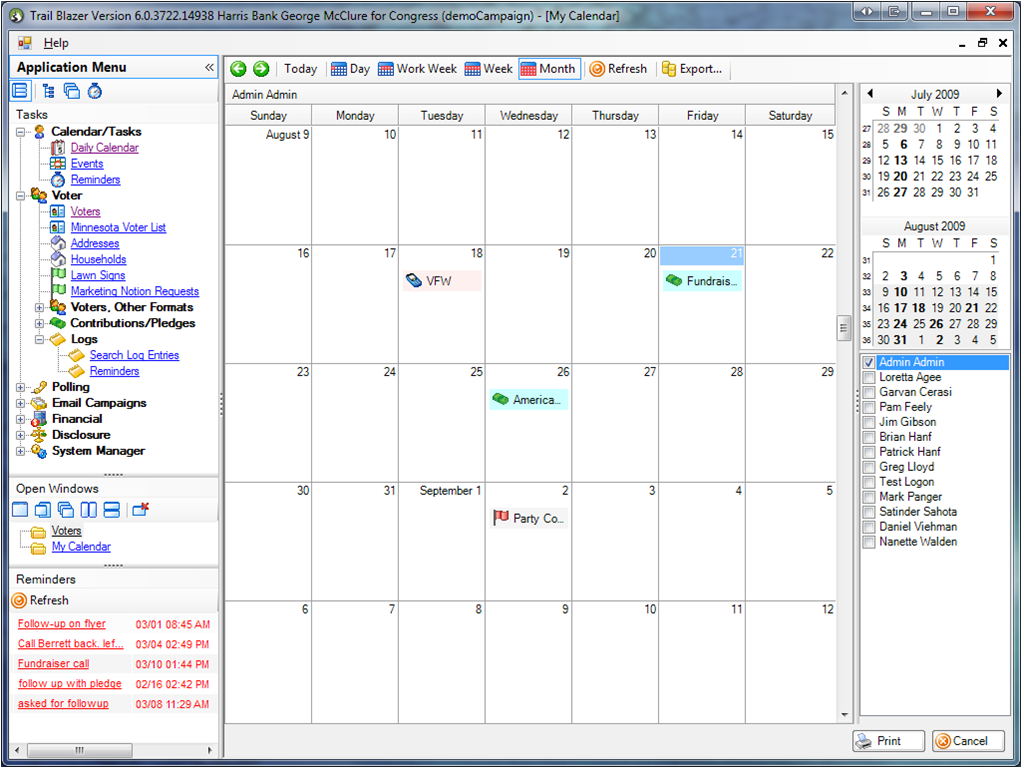 Get Donations via Facebook
Raise money from your Facebook visitors. Our form sits on your page and it's directly linked to your Trail Blazer database.
Text to Give
Give by text offers donors a quick way to get donations in the door. Unlike other give-by-text services, donors can send any amount, not just a set dollar amount, and money is deposited into your organization's bank account. Give by text is an optional feature from Vanco Payment Solutions. Donors simply enter their cell phone number, payment method and a 4-digit PIN. After the initial one-time setup, donors receive both an email and text message containing instructions for sending donations by text.
Polling
Determining your grassroots support requires that you understand voter sentiments in a fast-paced political world. Enjoy polling tools that allow you to quickly develop scripts, make calls and compile the polling data all in real time.
Trail Blazer Campaign Services is a Member of the American Association of

Political Consultants

(
AAPC

)

Request a Demo