What We Can Learn from The 2014 Election
by
Kenneth J. Drum
Is there anything we can learn locally from the last election. Now that the dust has settled those interested in local politics can start to analyze the results. There are several ways to look at election results but I favor looking at the strength of any candidate's result relative to the turnout and the expected result.
For starters any analysis involves assumptions. To illustrate I'll use the data from the Collier County 2014 general election. In that election there were 94,778 registered Republican voters and 45,440 Democrats. There are also 49,548 other registered voters who are not Republicans or Democrats.
Assumption #1: A political party should at least vote their registration
There should be an expectation in an election that a political party should at least vote their registration as a goal. While there will be some "ticket-splitting" that makes it impossible for members of one party to accomplish this there should be enough independent voters to offset any losses. Neither party voted their registration numbers in the 2014 general election.
Assumption #2: To determine a party's vote use an average of several offices
An estimate of a party's vote can be made by taking an average of the results of several offices. Usually it's best to use offices that are down the ballot and to look for similar results. For example here are some Collier County results for state-wide office: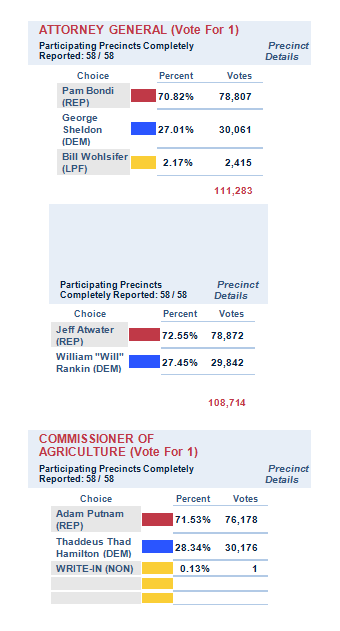 As you can see these successful candidates all got about the same number of votes. Therefore it can be assumed forour purposes that the Republican vote in this election was approximately 78,000 votes.Using that figure one could say that while Republicans won the elections their turnout still could have been better. They have 94,778 registered voters.
Let's look at the Democrats. Their vote appears to be approximately 30,000. Democrats have 45,440 registered voters so they also under-performed on voter turnout.
Assumption #3: A candidate's performance can be measured against party turnout.
A candidate's performance can be measured against party turnout to determine the strength of the campaign. Let's analyze this school board election. Kathy Ryan is a well known Democrat and Erika Donalds was widely supported by the county Republican party. Even though the election was non-partisan it's possible to make some comparisons.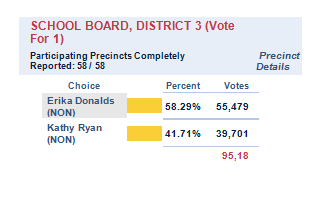 Here you have an example of Ryan outperforming the Democratic party (30,000) and Donalds underperforming the Republican turnout (78,000). Donalds won by a large margin due to a larger Republican registration but also overcame a large under-vote. Both campaigns would have to analyze the reasons for this. Another example is the race for governor.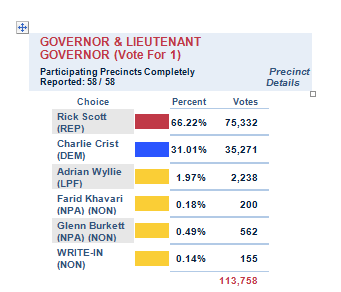 As you can see from this example Rick Scott ran fairly close to the Republican turnout number.Charlie Crist ran ahead of the Democratic turnout number. By using the relative strength tool a campaign can gage its' effectiveness relative to the party turnout in a given election. It is not unreasonable for a candidate to assume that they will get all of the votes from their party in an election. A good Get Out The Vote program is essential to winning any election. Candidates should have their own GOTV program rather than depend upon the party. While the party will be helpful to all of its' candidates on election day it can also be used as a benchmark to assess the effectiveness of a campaign.
What makes a good candidate?
Political consultant Joe Garecht lists five essential qualities successful candidates have.
#1 – You Have to be Authentic.
Voters generally dislike candidates that seem fake, contrived, or overly planned. The public wants to vote for a candidate that seems like they're being "themselves," and not playing a part. If the voters think you are putting on a show or wearing a mask in order to get elected, they'll wonder what you're hiding. Be authentic. If you have a regional accent, use it. If you've got a colorful history (within reason) make it work for you. Don't pad your resume or lie about yourself… the voters will see through the charade.
#2 – You Have to Delegate
Many candidates are classic "type A" personalities, which makes this one of the more difficult secrets for winning a political campaign for them to learn. No matter how hard you work, there's no way that one person can do everything that needs to be done in order to win an election, no matter how small or local the office sought. Successful candidates learn how to delegate tasks to trusted volunteers, a professional staff, spouses and friends.
#3 – You Have to Get Out in Front
If you don't define yourself, your opponent will do it for you. Get out early in the campaign to define yourself, define your opponent, and define the issues that are important in this race. Set the tone early, and force your opponent(s) to respond. As you build your name ID, make sure you define yourself and your opponent the way you want.
#4 – You Have to Stick to Your Guns
This is one of the key secrets to winning a political campaign: you have to stick to your guns. Sure, if you make a big, huge gaffe during the campaign, get out there and retract it fast, before the day is done. But if you're taking heat for your position on a particular issue, remember that the electorate may not like what you stand for, but they definitely don't like "wafflers," those candidate that seem to change their mind every time a poll comes out. Be a candidate of integrity, explain your position, and move on.
#5 – You Have to Have a Coherent Message
This is arguably the most important of all five of these secrets to winning a political campaign. The best way to make sure the voters remember you and what you stand for is to develop a coherent message and stick to it. Early in the campaign (preferably before it begins) develop a good strong message for your campaign, one that is easily understandable. Then, make sure that everything your campaign does reinforces that message.
This article was reprinted with permission of Kenneth J. Drum & Associates, 8404 Mallow Lane, Naples, FL 34113. Copyright 2014. Kenneth J. Drum & Associates. All Rights Reserved. For more information about the author go to: http://kendrum.com/